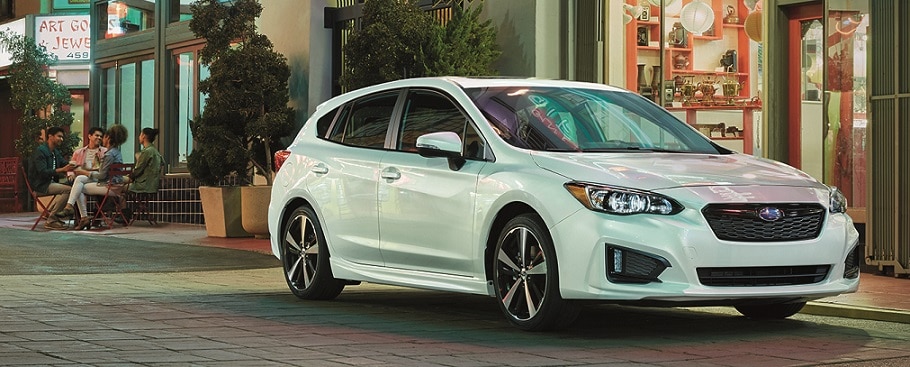 The Subaru Impreza vs Its Competitors: Who Has the Safer and Roomier Hatchback for Colorado?
The 2018 Subaru Impreza has a lot more to offer than the average hatchback sedan, from its traction control to its interior space and versatility to its safety. Additionally, the Impreza begins at a much lower starting price than most, making it an excellent option as a gift to yourself or someone you know. However, it's one thing to say you have an excellent hatchback sedan, but we here at Subaru of Loveland would rather show you everything that the Impreza has to offer, so let's compare this model side-by-side with some other competitors of its class.
The 2018 Subaru Impreza vs The 2018 Mazda3
When it comes to their overall starting price, the Subaru Impreza is much more affordable and begins at $18,995, whereas the Mazda3 begins at $19,345, which is a difference of $350.
Like manty other Subaru models, the Impreza comes standard with the Subaru Symmetrical All-Wheel Drive System, which is much more preferable in adverse weather conditions. The Mazda3 comes standard with front-wheel drive and AWD has to be upgraded.
The Subaru Impreza does have considerably more interior volume for passengers with 121.6 cubic feet of space, about as much as can be found on your average mid-sized SUV. Whereas the Mazda3 has about 96.4 cubic feet of interior passenger volume.
Finally, while both sedans were chosen as 2018 Top Safety Picks by the Insurance Institute for Highway Safety (IIHS), the Subaru Impreza made more prestigious list of 2018 Top Safety Pick+ due to its exemplary ratings in all categories including crashworthiness, roof strength, seatbelts, front crash prevention and the effectiveness of the LATCH (Lower Anchors and Tethers for Children) system. The Mazda3 received high ratings in most of these categories except for its LATCH System's effectiveness and the strength of its headlights.
The 2018 Subaru Impreza vs The 2018 Honda Civic
The starting price of the Impreza, $18,995, is considerably lower than that of the Honda Civic as well, which begins at $20,150. This is a difference of over $1,100.
The Honda Civic also comes standard with front-wheel drive and its all-wheel drive system must be upgraded with a higher trim. Fortunately, all trim levels of the Subaru Impreza include the Subaru Symmetrical All-Wheel Drive.
The Honda Civic did not receive a place on the 2018 Top Safety Pick list by IIHS and received a "Poor" rating in the effectiveness of its headlights. The Subaru Impreza scored the highest "Good" rating in all areas of safety rated by IIHS.
Finally, the Honda Civic does boast a bit more interior passenger space than the Mazda3, with 97.2 cubic feet, but is still outmatched by the 121 cubic feet of the Subaru Impreza.
Find Yours Here Today, In Loveland!
There's a lot that the Subaru Impreza brings to the table, so come down to Subaru of Loveland and test drive one today to see for yourself! If you'd like to know about any of the other Subartu models in our inventory, check out our research page where we take all the top Subaru models and put them head-to-head against their leading competitors. If you have any questions, don't hesitate to give our sales team a call during regular business hours at (866) 539-8579. See you soon!