The 2022 Subaru Love Promise Customer Commitment Award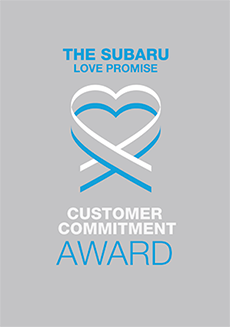 We've been nationally recognized for our dedication to our customers and the Subaru Love Promise.
We're honored to receive the 2022 Subaru Love Promise Customer Commitment Award. This award nationally recognizes Subaru retailers who demonstrate excellence in all areas of customer-focused performance. It highlights exceptional customer service that builds lifelong relationships with Subaru owners.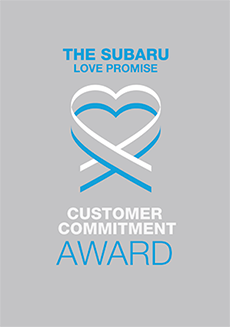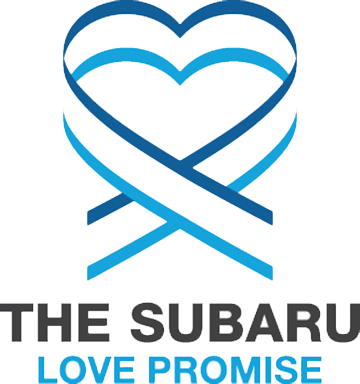 What is the Subaru Love Promise?
Subaru and our retailers believe in making the world a better place and the Subaru Love Promise is our vision of respecting all people. This is our commitment to show love and respect to our customers and to work to make a positive impact in the world.
How is Subaru of Loveland dedicated locally to the Love Promise?
Our Love Promise can be seen in various partnerships with local charities and non-profits. We're grateful for the opportunity, not only to be a part of our community, but to serve it as well.
Kids Pak , Loveland High School Athletics , Resurrection Christian Schools
Loveland Rotary Foundation , Colorado Eagles - Pot of Gold , Loveland Youth Athletics
McKee Medical Center Foundation
Love Promise Stories from Subaru of Loveland
Subaru and Subaru of Loveland believe in making a positive impact on the communities in which we live and work. We uphold that belief through our Love Promise Community Commitment. Every month, we select inspiring stories from customers and partners from around our area who strive to support our collective commitment and feature them here
Subaru of Loveland Helps Deck the Halls at Make-A-Wish Colorado Holiday Wish Store! - Tina S
Subaru of Loveland partnered with Make-A-Wish Colorado to collect holiday-themed decorations for the Make-A-Wish Colorado Holiday Wish Store! The Holiday Wish Store is a magical place where wish kids shop for holiday gifts for their family members... for free! With hands full of "wish bucks," to pay for each gift, wish kids are paired with volunteer shopping assistants to help with the selection and wrapping of each present. This way, the gifts are a complete surprise for the family! And each wish kid has an extra wish buck to pick out a present for themselves! It's a magical event that spreads holiday joy throughout the entire community. With the help of their customers and employees, Subaru of Loveland donated 78 Holiday Wish Store decorations, totaling over $1,091 to help make spirits bright! Thank you, Subaru of Loveland, for helping Make-A-Wish Colorado deck the halls and create an unforgettable Holiday Wish Store!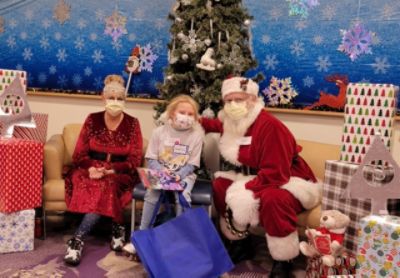 ---
Truscott Elementary School - Karen H
Subaru of Loveland has supported the students at Truscott Elementary School over the past two years with classroom supplies, water bottles, PE and recess equipment. Our students and staff are extremely grateful for this gift. We have especially appreciated the support given to address the wellness of our students. Each student at Truscott was given a new water bottle of their own to promote health and hydration. We have also been able to purchase playground, PE equipment and items for an obstacle course. Our student's participate in the obstacle course each Friday as a reward for showing positive behavior in school. Thank you to Subaru of Loveland for your continued support of each student at Truscott. Your generosity is making a difference in the lives of our students!!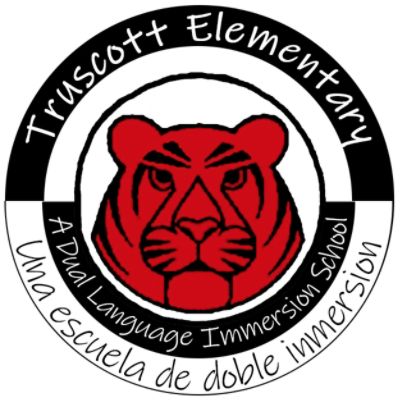 ---
Subaru of Loveland Hosts the Annual Loveland Turkey Trot on Thanksgiving Day - Tess B
In 2021, Subaru of Loveland hosted the 20th Annual Loveland Turkey Trot for the very first time at their dealership. Thanks to the generous use of Subaru of Loveland's property, 1,500 local Lovelanders were able to join together as a community in support of McKee Wellness Foundation. All proceeds supported McKee Wellness Foundation's many initiatives benefiting veterans, healthcare workers, students, cancer patients, and so many more. This year will be no different – Subaru of Loveland is excited to again host this family-friendly Thanksgiving tradition on November 24! For more information, visit lovelandturkeytrot.com. THANK YOU to Subaru of Loveland for so generously supporting Northern Colorado individuals in need.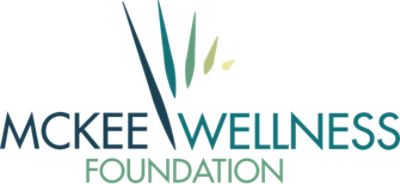 ---
Legacy Football Club loves Subaru of Loveland - Tracy B
Legacy Football Club has benefitted from the generosity of a Subaru love promise for several years. The support Subaru of Loveland and their owners individually provide has allowed us to accomplish our mission to field diverse, high-caliber teams safely. Each year, through the game of football, we register around 140 future All-Americans who learn the strength of teamwork, the power in overcoming adversity, and the bonds of friendship. As a member of our team, Subaru of Loveland helps keep our fees low and provide sponsorship to many who may not otherwise get the opportunity to play tackle football. We are able to ensure we have the equipment, uniforms, resources to train and compete to the best of our abilities. LFC loves Subaru and is so thankful for the positive impact we make together in the lives of Northern Colorado youth. THANK YOU.
---
Subaru Loves to Care & McKee Cancer Center - Paige D
The Leukemia & Lymphoma Society is so grateful for the charitable work the team at Subaru of Loveland completes year after year! This year Subaru of Loveland made a generous donation of blankets and art kits to the McKee Cancer Center, and the donation was appreciated not only by staff but by patients and their families. The warm, fuzzy blankets provided by Subaru were given to patients as a means of providing comfort and showing support. These were received in a number of ways - upon receiving diagnosis, while undergoing treatment, and during therapeutic activities. Hearing the words "You have cancer" is a terrifying and isolating experience, and not only did these blankets show support with coping but the art kits also helped patients and their children by providing activities while in the treatment facility. Year after year Subaru makes this philanthropic gesture not only with the blankets and art kits, but with their staff who attends the deliveries and connects with the community. We are so grateful for this continued selfless act!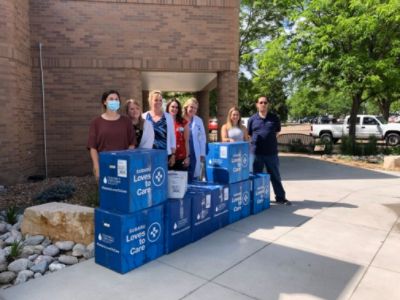 ---
Subaru of Loveland Loves Truscott - Gabby A
Continuing with the 2021-2022 Subaru Loves to Learn Adopt-a-School program, Subaru of Loveland collected clothing donations this Spring for local students. Last month we got to drop off the boxes at Truscott! This has been a great program, and we have loved working with the friendly faces on the Truscott Elementary staff to serve the students.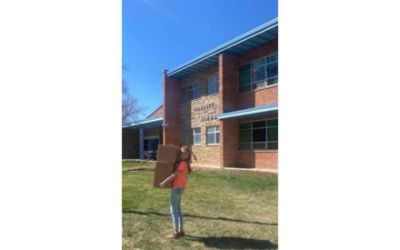 ---
Sharing the Love- And Lunch! - Suzy G
Subaru of Loveland staff members were treated this week to a delicious lunch in celebration of yet another successful Share the Love event. Employees were joined by Tom and Corinne Carrigan of Loveland Rotary KidsPak, our hometown charity, for a fun celebration and a reminder that we really can do more good for our community when we work together toward a common goal. Subaru of Loveland is excited to present our 2021 donation to KidsPak and hear stories about how this partnership is making a positive impact on the lives of local students.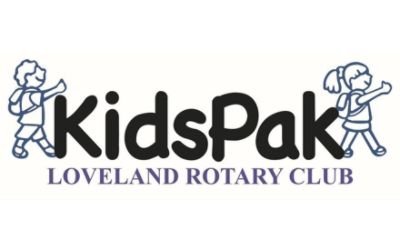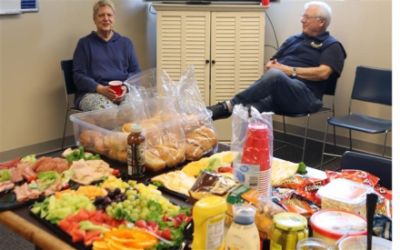 ---
Feeding students in Thompson Schools - Thomas A
KidsPak and Subaru of Loveland are now in the 8th year of partnering in feeding food insecure students in the Thompson School District. Share the Love money has provided over 371,000 meals since the program launched in 2013. KidsPak is a supplemental weekend food program for students in early childhood, middle and high school in Loveland and Berthoud Colorado. KidsPak bag contains six meals for the weekend. Subaru of Loveland provides a staff member who delivers a four school route each Wednesday in the school year. KidsPak and Subaru of Loveland created a unique challenge with the kickoff FOR Share the Love by creating a competitive pack between the Subaru sales team and teacher and administrators from Thompson Schools. Over the years each team has won 3 times with 600 bags being packed in less than 35 minutes on the showroom floor. KidsPak volunteers and friends of KidsPak have purchased over 37 new and used vehicles from Subaru in just the last four years. The good will developed by Subaru of Loveland has generated extensive positive community spirit. The importance of 371,000 meals to Thompson students over the years has created a learning opportunity for thousands of children that "ready to learn on Mondays.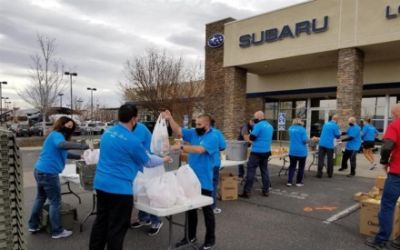 ---
Subaru of Loveland Supports LHS Basketball - Suzette G
We had an exciting moment this month in our ongoing partnership between Subaru of Loveland and LHS athletics! Subaru of Loveland donated an outback to raise money for our athletic department this basketball season. Students bought raffle tickets for a chance at a half court shot to win the car. And one of our students hit the shot to win the car! Check out the exciting video. LHS athletics is grateful for Subaru of Loveland's ongoing support of our local students.
---
Cameron Peak Firefighters Honored - Chief Mark M
Subaru of Loveland wanted to honor the Cameron Peak firefighters for their hard work and dedication by bringing them portable chairs, water bottles, backpack coolers and blankets. Subaru of Loveland cannot thank these men and women enough for all the hours of hard work, perseverance and kindness.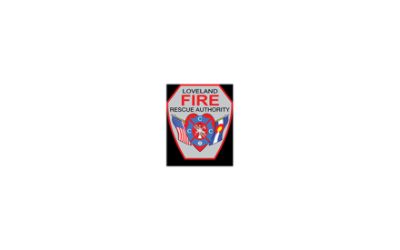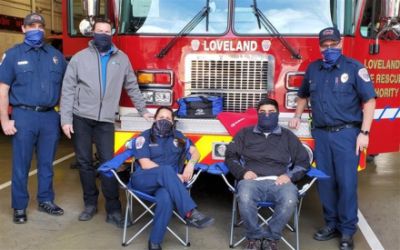 ---