The 2021 Subaru Love Promise Customer and Community Commitment Award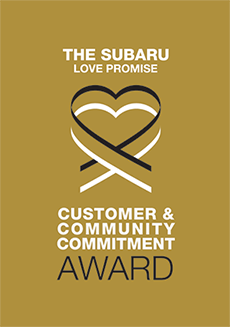 We've been nationally recognized for our dedication to our customers, our community, and the Subaru Love Promise.
We're honored to receive the 2021 Subaru Love Promise Customer and Community Commitment Award. This award nationally recognizes elite Subaru retailers who provide an exceptional customer experience at every interaction with Subaru. These retailers have also demonstrated an outstanding commitment to supporting passions and causes in their local communities in important areas such as the environment, community, health, education, and pets.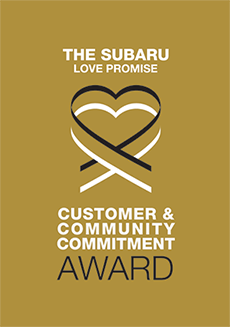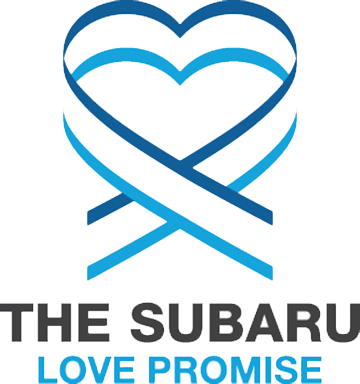 What is the Subaru Love Promise?
Subaru and our retailers believe in making the world a better place and the Subaru Love Promise is our vision of respecting all people. This is our commitment to show love and respect to our customers and to work to make a positive impact in the world.
How is Subaru of Loveland dedicated locally to the Love Promise?
Our Love Promise can be seen in various partnerships with local charities and non-profits. We're grateful for the opportunity, not only to be a part of our community, but to serve it as well.
Kids Pak l Loveland School District l Loveland Classic
Loveland Rotary Foundation l Loveland Youth Athletic Association l Loveland Chamber of Commerce
Health: McKee Medical Center Foundation
Love Promise Stories from Subaru of Loveland
Subaru and Subaru of Loveland believe in making a positive impact on the communities in which we live and work. We uphold that belief through our Love Promise Community Commitment. Every month, we select inspiring stories from customers and partners from around our area who strive to support our collective commitment and feature them here
Cameron Peak Firefighters Honored - Chief Mark M
Subaru of Loveland wanted to honor the Cameron Peak firefighters for their hard work and dedication by bringing them portable chairs, water bottles, backpack coolers and blankets. Subaru of Loveland cannot thank these men and women enough for all the hours of hard work, perseverance and kindness.
---
Subaru of Loveland loves RCS- and it's mutual. - Brooke V
Resurrection Christian School in Loveland, Colorado depends on the generosity of the local community to deliver on its mission- to raise up students who are Boldly Christian, Academically Equipped, and Globally Prepared to make a positive impact on their local community, country, and the world. Subaru of Loveland's generosity has been seen across our campus, through gifts to our youth basketball camp, sports programs for kids of all ages, and our annual golf tournament that supports our athletics programs at the middle and high school level. Subaru of Loveland has also been a faithful sponsor of our annual gala; an event that raises funds to help provide tuition assistance to families in need and support for our teachers; both to retain current teachers by providing opportunities to obtain further education and to attract new teachers with these programs. They have also blessed our teaching staff with doughnuts and coffee on professional development days- a gift that truly brings smiles to the faces of our dedicated and sacrificial teaching staff. RCS is thankful for the partnership and love shared with us by Subaru of Loveland. The feeling is very mutual- RCS loves Subaru of Loveland. Thank you for your selfless and loyal support of our students, teachers and families!
---
Promise Story - Tom C
Everyday as consumers we are inundated with information and NUMBERS. I would like to share a VERY IMPORTANT number that connects to Subaru of Loveland and their passion to feed food-insecure students in the Thompson School District...................321,483 meals provided to hungry kiddos.This represents seven years of SHARE THE LOVE results that provided KidsPak with $225,000. Each year Chris Gebhardt and his sales team shared information with hundreds of customers about hungry kids in Thompson. Over the years, they made a difference in providing weekend food to students. Thank you, Thank you to Subaru of Loveland for their compassion and empathy for our students. Bless them.
---
Here is a story from the Colorado Eagles - Gavin R
The Colorado Eagles and Subaru of Loveland have worked together for the past five years on the team's marquee fundraiser, The Pot of Gold. Annually, a Northern Colorado child with financial hardship created through medical issues is selected as a recipient of the St. Patrick's Day themed, "Pot of Gold" game. Donations are collected from fans in attendance and game worn jerseys are auctioned to raise money for the beneficiary. In addition, the Eagles and Subaru of Loveland have partnered on the nightly chuck-a-puck promotion and asked fans to toss the foam pucks into the sunroof of a new Subaru vehicle where each puck generates a $100 donation to the family. This, coupled with the percentage of sales the month prior to the game from new vehicles sold, has contributed $7,500 annually to the recipient family. The Subaru of Loveland family by their generous financial contributions, marketing and involvement of personally sharing the story of these families in need have taken this community fundraising program to a whole new level.
---
Atticus' Story - Atticus H
Atticus joined the Therapy Services (hippotherapy) program at Hearts & Horses in April 2016 at the age of 9. Initially, he struggled with coordination, concentration, self-help skills, and communication due to his diagnosis of autism spectrum disorder. Over time his communication skills, balance and coordination improved to the point where he was able to 'graduate' from Therapy Services to our Interactive Vaulting Program. He now greets people appropriately, displays empathy for animals and is making new friends! Always willing to accept a new challenge, Atticus has even created some of his very own gymnastics routines to perform on his horse. Attached is a photo of Atticus on Zulu, our tallest horse at 17 hands! Thanks again for all you do to support Hearts & Horses! With gratitude, Jan
---
Blue Star Fund - Allis G
With the support of Subaru of Loveland the McKee Wellness Foundation distributed $72,000 and acquired two matching grants to support just under $100,000 in veterans support programs in 2020. When 2020 took a turn in March everyone was left scrambling to find new support avenues and the Blue Star fund was able to step in for veterans across Northern Colorado. The emergency support grants through our partners at Front Range Community College and Larimer County Veterans Services help to bridge the gaps for veterans needing to pay rent, purchase laptops for school, fix devastating water damage, and navigate unexpected family changes. Having people and funds available to step in and say "we've got you!" - truly saved lives. Asking for help is a humbling experience and veterans have already sacrificed a great deal, being able to take care of our veterans in Northern Colorado would not be possible without the support of Subaru of Loveland. Pictured is a check to Vets4Life in part possible because of Subaru of Loveland - this check allowed over 30 veterans to access physical activity and community through CrossFit DNR. This community has embraced veterans and understands the physical and mental support that CrossFit and other activities provide veterans. Allis Gilbert Executive Director
---
Subaru of Loveland supports Family - Richard R
The Romito Family would like to Thank Subaru of Loveland and the Gebhardt Family for their partnership with the Colorado Eagles in supporting the Pot of Gold Event. The Romito Family having four sons and which three of them have been diagnosed with Duchenne Muscular Dystrophy (DMD). There is no treatment and no cure and three are in power wheel chairs, The Romito Family were desperately needing help to obtain an accessible home that could be functionable for Dominic, Collin and Kaleb in their power chairs and to allow them to maintain their independence for as long as they can. Chris and Greg Gebhardt presented the Romito Family a check for 7,500. The Gebhardt Family with its kind, loving, and compassionate generosity have made it possible for the Romito Family to obtain the dream of owning their own accessible home. The Gebhardt Family sincerely goes above and beyond to give back to the community and support the community to enrich the lives of others. The Romito Family will forever be grateful to the Gebhardt Family. God Bless,The Romito Family
---
Partnering for health - Allis G
As a community partner Subaru of Loveland has continued to help makes a major impact on the health and wellness of all. Specifically this past year we partnered to serve our local veterans. It is with their help we were able to raise over $200K for veterans programs focused on wellness. Supporting housing, education, dental care, and emergency support, to the tune of almost $100,000. We continue to be able to service our community through the generosity and love that Subaru of Loveland shares!
---
KidsPak + Subaru Of Loveland 2019 Partnership - Maia M
Subaru of Loveland has been an integral part of the success of the Loveland Rotary KidsPak; a weekend food program for hungry students in the Thompson School District. We are entering our 7th year of partnership in fighting hunger in our schools. The Love Promise has created over 282,000 meals as the result of $198,000 in contributions during the Share the Love event. Without Subaru of Loveland's help, KidsPak would not be a reliable source to fight hunger on the weekends. In addition, Subaru of Loveland delivers each Wednesday to four schools in the district. This is one of fourteen routes that delivers food to schools in a timely manner.Subaru of Loveland also supports our trip to the Disney on Ice in March. To date, 150 students from Title 1 schools have had an opportunity to participate in a special night out. This relationship has made a substantial impact on our community. In return, the KidsPak community has directly impacted Subaru with 23 sales over the last two years.
---
A Heart for Art and Children - Natalie M
What is the international symbol for love? A heart, of course. And what is inside the word heart? Art. Subaru of Loveland has a heart for Art! Loveland, known as the City with a Heart, is in Northern Colorado and was voted the 2nd best Art town in America, hosting the longest running Artisan Show and largest outdoor Sculpture show in the state. Joe Gebhardt, owner of Subaru of Loveland, has been a strong community partner and long-standing member of the Rotary Club and is actively passing the torch of philanthropy to his close-knit family members. Not only are long established non-profits supported by the Gebhardt family, they have also taken up the task of helping new non-profits reach their goals. Of late, Colorado Kids Create Inc. was sponsored during Loveland's historic Art weekend which is attended by 20,000+ people! I remember a couple of years back sitting at the Muse, a local coffee shop, with my brain fueled by a double latte and chatting with Suzy Gebhardt about dreams for Colorado Kids Create Inc. At the time, there were only a couple of board members She listened intently as I told her stories about the teachers and students and the beautiful happenings in my journey as CKC's Founder. Suzy said that if I ever had a fundraiser she would help. She didn't verbally make a promise but her word alone was as good as gold. When our charity was finally ready to have a fundraiser, Subaru of Loveland came through as a Silver Sponsor for Colorado teachers and students! Colorado Kids Create Inc. is a 501-c3 purposing to encourage artistic self-expression in youth and empower Colorado teachers, raising funds for Art supplies. Money for school Art programs is being slashed across our nation and some teachers in Colorado receive less than $1.00 per student, per year for Art supplies. Colorado students and teachers are helping solve this problem via a state-wide drawing contest. The artwork submitted is used to illustrate grade-school books/e-books about Colorado and Western heritage, a required subject for 4th graders. 100% of book/e-book sales on Amazon goes back to schools for Art supplies. The Carousel of Happiness is a CKC story written about Scott Harrison, a Vietnam Veteran, who ended up working towards peaceful resolve through Amnesty International and carved wooden animals for a carousel in the small mountain town of Nederland. The local joke is that to be a citizen of Nederland, one must have to have a dog and drive a Subaru. One of last year's drawing entries came from Ethan Yang, a motivated 4th grader who attends Franklin School of Innovation in Pueblo. Born with arthrogryposis, a muscle dis-order that causes multiple contractures and severely impacts the use of fingers and hands, Ethan none-the-less is distinguishing himself as an Artist. His depiction of the Denver, Broncos helmet logo created with markers, was submitted in the CKC contest and Ethan had the honor of having his creation judged on the state level. Loveland is a hub of artistic expression and set to become a fulcrum of creative activity for children as well as adults. Thank you to Subaru of Loveland for believing in individual dreams and start-ups and for keeping promises made in love for the betterment of Colorado communities.
---